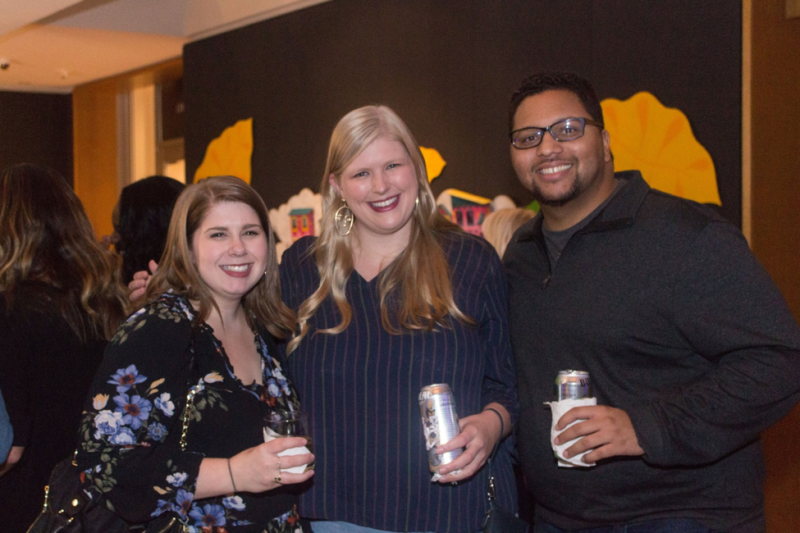 "You're invited to a VIP party." These are words that are not usually sent in my direction, so when an invitation to the VIP Opening Party for the Michael Sherrill exhibition showed up in my inbox, I wasn't entirely sure how to proceed. VIP parties and fancy events have never exactly been my lifestyle, but I love art, parties, and new experiences, so of course I had to say yes. The theme of the party was barbecue, craft beer, and bluegrass, so I was optimistic that it would be a good time.
When I arrived, I was greeted by the sounds of people chatting, the band playing, and the warm, comforting smell of barbecue, tomato pie, and yeast rolls. There were multiple bar stations serving cocktails and great craft beer from Burial Brewing, and the museum atrium was filled with wooden tables, blue and purple flowers, and had a cozy and relaxed vibe that immediately put a smile on my face. The laid back, comfortable atmosphere put me at ease and I was ready to take in whatever the evening would bring.
While in line for food and drinks, I chatted with a woman who had traveled from Asheville and was excited to see the exhibition. We had never met, but the energy in the room made talking to strangers feel normal and fun and everyone seemed to just be ecstatic to be there. We heard remarks from President and CEO Todd Herman, curator Annie Carlano, and then from Michael Sherrill himself. Sherrill had many friends and family in attendance and it was inspiring to see an artist show such appreciation and joy for showcasing their work and excitement to share it with not only important people in their life, but all of us as well.
Then it came time to view the exhibition itself. As more of a modern art and painting fan, I wasn't sure how I would respond to a pottery and sculpture exhibition, but it exceeded every single one of my expectations in a big way. The work was stunning, with unique textures and colors around every turn. It felt just as warm and inviting as the party downstairs, and in my opinion showcased exactly who Sherrill is as an artist.
It was a night to remember on all fronts and for my first VIP party, it was nothing short of magical. I'm still astounded that as a Mint Museum Member, these are the types of events you can attend and the work you can see on a regular basis. The culture, creativity, and connection that art brings are amazing and, as always, I'm comforted to know that it can all be found in Charlotte and at the Mint.
Editor's note: All members of The Mint Museum are being invited to the next VIP party, to be held January 31, 2019 in honor of Under Construction: Collage at The Mint Museum. If you want to join up in time to be invited, and to receive a list of more great benefits that last year-round, visit mintmuseum.org/join.